Nh City Centre Hotel
(Amsterdam)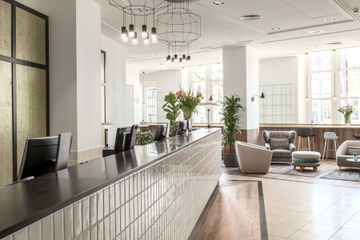 Address of the Hotel Nh City Centre
SPUISTRAAT 288-292
Distance to center: 0,47 km

Information about the Hotel Nh City Centre
This hotel is located in the heart of the city centre, overlooking the Singel Canal, a brief walk from the floating flower market, the Dam square and many shopping opportunities. Public transportation connects to a plethora of attractions. All of the 209 comfortable rooms have views of downtown Amsterdam or the Singel Canal and the hotel offers a peaceful winter garden for all guests to enjoy as well as an elegant boardroom for those traveling on business, who will appreciate the tram connections to major business hubs like the RAI Convention Centre and the World Trade Center.

Services of the Hotel Nh City Centre
• Aerobics
• Bath
• Bike / mountain bike
• Breakfast
• Breakfast room
• Central air-conditioned
• Dinner menu choice
• Gymnastics
• Half board
• Iron and board
• Lunch buffet
• Lunch menu choice
• Mini fridge
• Pub-s
• Scuba diving
• Squash
• TV
• Tea / Coffee
• Water aerobics
• Wheelchair accessible

How to get to the Hotel Nh City Centre in Amsterdam
This comfortable hotel is situated in a central location, close to Damplatz and the main train station.
Map - Hotel Nh City Centre en Amsterdam
Types of Hotels in Amsterdam
Hotels in Amsterdam by Categories
Others hotels near the hotel Nh City Centre in Amsterdam
Hotels in Amsterdam with the letter n
Cities near to Amsterdam
Main Destinations
Weather forecast for Amsterdam
Powered by World Weather Online